04 May 2023
Life Lessons in the Great Outdoors: Activities on the Water that Build Essential Skills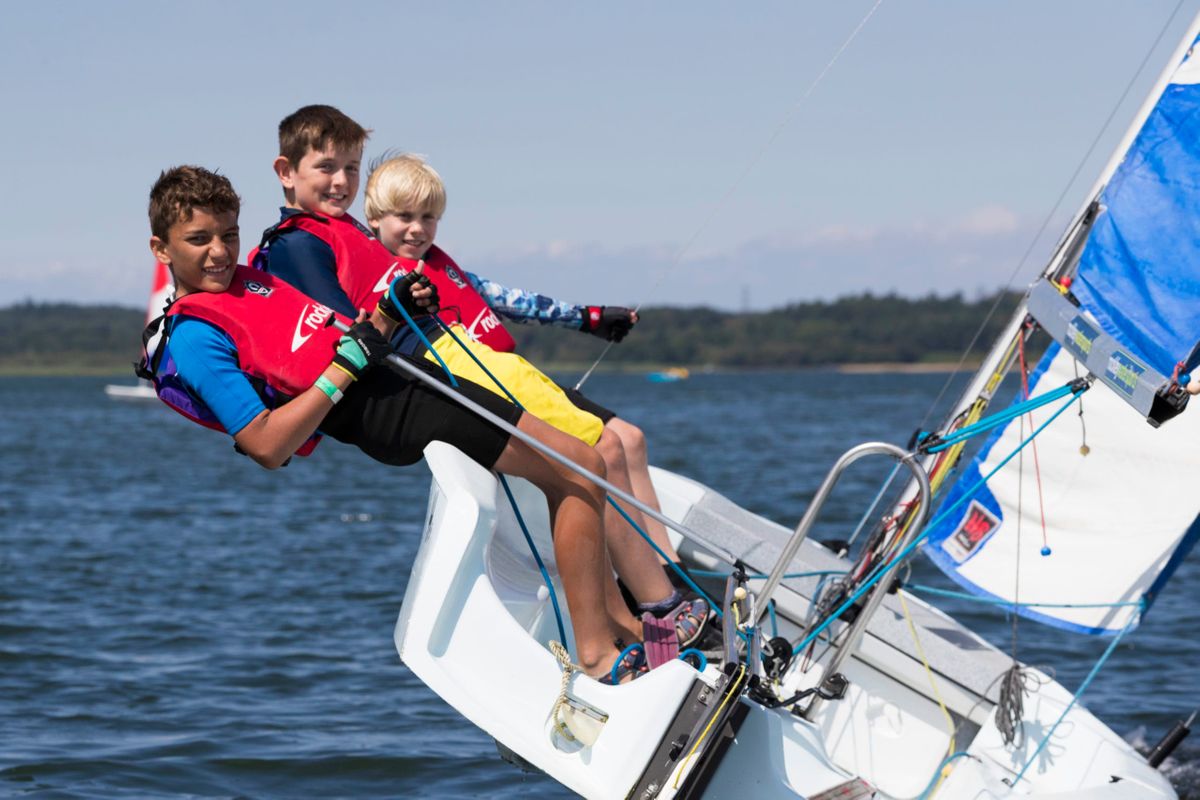 This year we're excited to announce we have an indoor pool featuring a variety of kayaks, supplied by
Riber Products LTD
and paddleboard demonstrations by well known industry professionals, the pool, sponsored by
GJW Direct
, is an exciting opportunity to view some on-water action. The watersports activities at the pool are being managed by
Rockley Watersports
, and they're no strangers to giving customers a great experience on the water!
There are so many ways to get outdoors and with all the activities that you can try, it can be a minefield knowing which one will suit you best. Here we take a look at some of Rockley's popular activities, their benefits and skills you will learn. Don't forget that on their multi activity trips, you can have a go at them all to get a feel for which is your favourite!
Sailing
The original sport that Rockley started teaching at our sailing centre in 1976, sailing is a classic however the equipment and teaching techniques have evolved and developed over the years. We now have sailing boats with trapeze, spinnakers, multihulls and high-performance dinghies as well as beginner sailing boats which are ideal to get started.
To get afloat you will usually be in a small boat such as a Pico or with an instructor in a boat such as a Wayfarer. They will teach you the correct techniques to steer the boat, turn in different directions and use the wind to your best advantage.
The beauty of sailing is that you are using the natural elements (wind and tide) to propel you through the water! There is no better feeling than the wind in your hair, fresh sea air and a cool splash of water and you glide towards your destination. Sailing is a sport that will work many aspects of physical fitness; increased flexibility and agility as you move around the boat, balance, core and muscle strength and hand-eye coordination are all developed as you pull on the lines and keep the boat flat, but saying this it can be a fast or slow paced as you like!
Paddleboarding
A relatively new craze in the UK, people have been standing on boards and paddling for thousands of years, the first paddle boats can be traced back to ancient Egypt! Nowadays paddleboards are used for all sorts of activities- leisure rides, exercising and competitive sports.
Here at Rockley we have a few different types of boards. One of the most popular with both students and teachers is the Mega SUP! This is basically a giant paddle board which a group can paddle (and fall off) together! Teamwork, co-ordination and balance are all required and this makes for a brilliant team activity!
If you prefer to go it alone paddle boarding is a great way to get some headspace and physical exercise at the same time. Often suited to calmer days using a paddleboard to go on an adventure or explore a new lake or river is a brilliant release. It is also great for your physical fitness as your whole body is used, particularly your core and upper body.
Windsurfing
Similar to sailing, windsurfing uses wind power to propel you through the water. In windy conditions Windsurfing can be thrilling and exhilarating, once you learn the basics you can grab a board and get plaining through the water! It's also a cool sport to master!
Rockley offer lessons to teach you all the basics, including balancing on the board, using the sail to turn and control your speed, progressing onto more advanced techniques. Don't be put off if you fall in (a lot) the first few times, once you get used the way the board and sail work together you will be off for a fun ride!
Raft building
Great for groups and teambuilding activities raft building uses barrels, wooden planks, rope and other materials to challenge you to create a raft that holds together and floats!
Our instructors will be on hand to teach you some useful knots and give some hints and tips, however it is important to work as a team to build the best raft possible!
Once built a short on the water course will test the strength and durability of your raft to see if it keeps you afloat! This activity identifies leaders, team players and also encourages everyone to get stuck in and join the fun.
These are just a few of many activities that Rockley offers our Schools and Groups during an adventure trip with Rockley! Take to the water and learn new skills as well as having loads of fun and unforgettable adventures! Get in touch to find out more; 01202 677272 or email adventure@rockley.org