21 Nov 2022
Four METSTRADE winners exhibiting at the SBS BoatLife Show 2023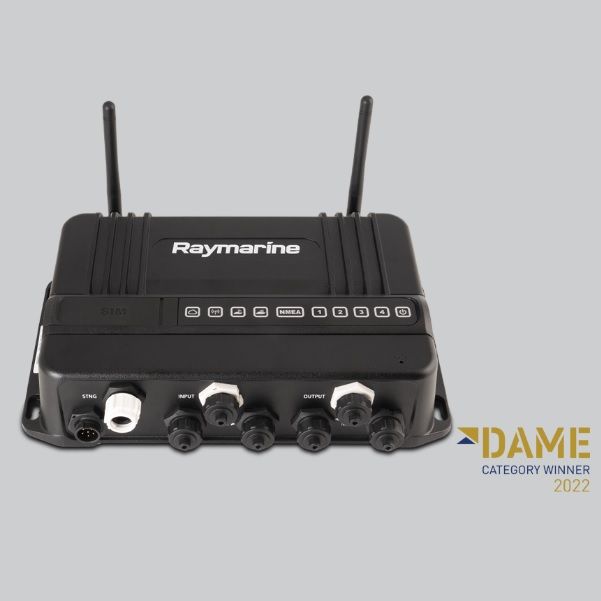 With the largest marine trades exhibition show taking place in Amsterdam this week it is not surprising that the news revolves around the latest offerings on show. We're pround to have four of these Award winners at the SBS BoatLife show 2023.
Raymarine has announced its YachtSense Link marine router has won the 2022 DAME Award in the category 'Marine electronics and marine related software'. This innovative device is a multipurpose marine mobile router equipped with Raynet Ethernet ports, mobile broadband connectivity, and onboard Wi-Fi. Announced during the international METSTRADE exhibition, the award was judged by a mix of experts seeking to recognise outstanding products, assessed on overall design, build quality, functionality and use of materials.
Gregoire Outters, General Manager at Raymarine, said: "We are thrilled to be announced as a winner at the 2022 DAME awards. We are constantly aiming to deliver high-performance systems that make boating more stress-free, in which onboard connectivity is crucial. We are delighted to be recognised for YachtSense Link, an integral part of the new YachtSense Ecosystem which enables complete onboard and offboard integration for a smart home on the water."

ePropulsion Smart System Architecture – photo © ePropulsion
At the METS show, ePropulsion showcased a number of new products and systems, demonstrating its continuous innovation in facilitating a more intelligent and reliable boating experience. The latest model range on display at METSTRADE includes the new, DAME Award-shortlisted I-20 inboard motor, part of the new I-Series which also includes the I-10 and I-40.
Meanwhile VETUS has set a new industry standard in DC thruster power with the launch of its first BOW PRO Boosted units for 400mm tunnels, previewed for the first time at METSTRADE. Expanding the VETUS line-up of advanced BOW PRO models, the BOW PRO Boosted 385 (BOWB385) and the BOW PRO Boosted 420 (BOWB420) are the most powerful fully proportional brushless thrusters available on the market with 48V DC compatibility.
Away from the show, Mercury Marine, a division of Brunswick Corporation, has introduced the industry's first ever V10 outboard with the official launch of its all-new 5.7L 350 and 400hp Verado® outboard engines. Consistent with the award-winning Verado brand, the new V10 engines are the quietest and smoothest in their class running 45 percent quieter than a leading competitor at cruise.

Mercury Marine launches V10 Outboard – photo © Mercury Marine
In addition to NVH, the new Verados are not only compatible with the latest Mercury SmartCraft® technologies but will also be offered with an optional dual-mode 48V/12V alternator to seamlessly pair with Navico Group's Fathom® e-power system, an integrated lithium-ion auxiliary power management system, providing boaters the opportunity to eliminate an onboard generator system.
"The all-new Mercury V10 Verado outboards are exactly what boaters have been asking for in a 350 and 400hp platform," said Chris Drees, Mercury Marine president. "They are powerful, smooth and quiet. They have many of the same fuel efficiency-enhancing features that are synonymous with our high-horsepower lineup. They also deliver the same kind of premium boating experience that has made Verado outboards legendary. The V10 Verado outboards solidify Mercury's leadership position in the high-horsepower outboard market."
We welcome all of these innovative brands to the show in February 2023!