09 Feb 2023
Finding Joy on a Stand Up Paddleboard: An Inspiring Q&A with Jo Moseley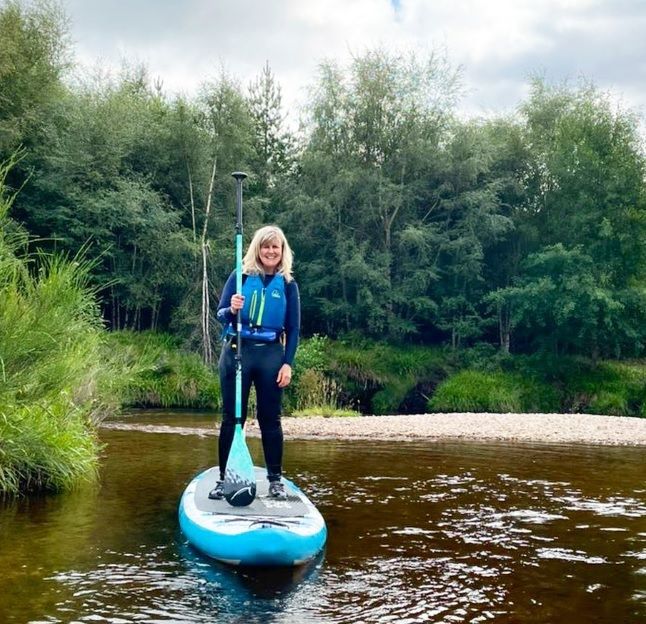 We are delighted to welcome back Jo Moseley to the SBS BoatLife 2023. Jo is the author of the bestselling book Stand Up Paddleboarding in Great Britain – Beautiful Places to Paddleboard in England, Scotland and Wales and stars in the beautiful featurette Brave Enough.
In 2019, she became the first woman to paddleboard 162 miles coast to coast, picking up litter and fundraising. Jo calls herself a joy encourager, midlife adventurer and beach cleaner. She's an for Ambassador the 2MinuteBeachClean Foundation and has a successful podcast The Joy of SUP – The Paddleboarding Sunshine Podcast.
Brave Enough has been selected for prestigious film festivals.
BoatLife Events interviewed Jo over on Instagram recently, we talked bout everything from safety gear to the benefits of SUP, a second book and buying a board…
Hi Jo, it's lovely to see you back again for 2023 as an ambassador for the show. How was the first ever BoatLife Show last year?

I really enjoyed it. It was a great event. I loved getting to know all the other ambassadors, and that really inspired me. I love going around the show meeting all the different people, so I came away feeling really uplifted. It was brilliant mixing with with all the generations that were there, you've got people who are new to watersports, you've got people that are who sail around the world who've done incredible things, and have huge amounts of experience, and we can all learn from each other.
Tell us a bit more about yourself Jo and how you got into paddle boarding?

I'm a single Mum of two grown up sons, who are off on their own adventures now. I live on the edge of the Yorkshire Dales and have a lovely very normal day job. I've written a best selling book about paddle boarding and I just love everything to do with the sea, rivers, lakes, and the canals. And of course picking up litter!

Weirdly, I got into paddle boarding because I had an accident. Seven years ago in January 2016 I fell and hurt my knee. I was in a lot of pain for a long time, and on crutches, my spirits really were dampened. And then in September as I started to heal, I set myself a challenge to spend 30 minutes outside every day, and I called it Rain or Shine 30. I was mainly walking. Then by chance I found stand up paddle boarding on Instagram. I thought 'Wow, that looks really fun.'. Later in September I took a paddle boarding lesson in the Lake District to help me get on the water safely.
The minute I stood up I just loved it.
I didn't know that it was going to change my life, but I knew that it was something really, really special. It was bizarre to think an injury really changed my life in a positive way. It's opened up so many doors for me, from the podcast to making films and writing alongside my day job. And so for anyone who's thinking, "I'm far too old to try something new", "I don't have great balance" or "I'm too nervous", paddle boarding is a great way to experience something new. It's one of the reasons why I tried it because it wasn't going to hurt my knee and it was going to strengthen the muscles around it, and help my core and balance.

There are so many men and women in their 50s, 60s and 70s who are paddle boarding, going at all kinds of speeds. Some of them enter races or endurance challenges, for others I think it's a great recreational sport. I know a chap used to be a very confident surfer and now he has become a paddle boarder in his 70s!

We know you've written a book all about this Jo but what is you most favourite spot in the UK for paddle boarding?
That's really hard because in my book I have explored and written about 30 beautiful places, and there are so many more. I feel like I'm choosing a favourite child, but one that sticks in my mind, for sentimental reasons, is a place called Runswick Bay and it's really where I became a paddle boarder. It's on the northeast coast, just north of Whitby, and is a beautiful, quiet sheltered bay. I go there a lot, it feels really special. It's easy to access, and you can be 50 yards from the shore, but you feel like you're in another world. I also do like to paddle on canals, it's a different experience, and I feel very privileged to have seen so many beautiful places inland and along the coast.
For anyone that's feeling curious and inspired by you to get a paddleboard, can you share any tips for beginners?
Find somewhere to have a lesson so you can learn from a qualified instructor. When it comes to finding a board I went to a chap called Alan Taylor, at SUP North UK in the northwest. We went on the marina and he gave me a few different boards to try. He explained that as a beginner, I'd probably want an all round board. I could decide later if I wanted to go into anything more specialist like white water, surfing or racing, which I don't. I'm still very much a recreational paddler and I ride a Bluefin for whom I am an ambassador. Boards might look very similar but they feel different, so just try as many as you can and get some expert advice. The SBS BoatLife Show is a great place to do that!

One of my good friends Caroline (Caz SUP Lass Adventures) will be at the show and she is going to be demonstrating on the water. That's the great thing about the show, we were both there last year for the first time. Caz is an amazing advocate for SUP, and I'm thrilled she will be there again and speaking this time!

Caz is running some sessions at the indoor activity pool so please do go and see her, you'll be in good hands! She is a WSA instructor and coach, she's got a great business, she's highly qualified and helpful. The show is a great opportunity for complete beginners or keen paddle boarders to learn something. Nobody's judging, nobody's watching, nobody knows you. Just come and see if it's for you.

There will be some new faces at BoatLife as well as friends I've not seen since last year. There's a lovely atmosphere, and that's what I love about the show. I will be there if anyone wants to have a chat or has any burning questions!
BoatLife 2022
Water safety is absolutely paramount, what can you tell us about SUP safety?
Safety is absolutely key with paddleboarding and that's why I recommend having a lesson or course of lessons with a qualified instructor before you start. It's very easy to order a board online and have it delivered, but you'll learn much more about how to paddle safely by having a lesson. I recommend you wear a buoyancy aid or PFD (personal floatation device) on each trip. Always consider the body of water you're paddling on because canals are very different to a coastal location. You will need to think about specific elements like tides and wind at the coast in particular and don't go out in an offshore wind.

Make sure you always use the right leash, as this is what connects you to your board so should you fall off you can get back on again. I favour a quick release belt and leash which is worn around my waist. If I need to disconnect myself from the board for a safety reason, I can access it more easily at the waist
than if it is round my ankle. Always carry a form of communication in a waterproof pouch, such as a fully charged mobile phone and dress for the water not the air temperature, especially in the spring.

Tell people where you're going, what time you expect to return and what to do if you don't get back by then. Also, do remember to let them know when you're back. Always remember, when looking at the conditions, if in doubt, don't go out. Stay safe on land and enjoy SUP another day!
Once someone's had a lesson and got a board, what next? Where should they go?
I would just say to people don't always think coastal. There's lots of great places inland, like the canals which are gorgeous and they're great for beginners because they can be easier for paddling. There are no tides to navigate and are often more sheltered. Canals can often be accessed more easily. You can go by train, bus or even tube and you're close to the towpath if anything happens. Cities like London are one of my favourite places to paddleboard, especially Regent's Canal. It's just extraordinary. For the book, I went all over the country – there are so many beautiful places. If I had to choose somewhere to go tomorrow it would be Oxford or Cambridge. I would like to do more cities like Norwich. Because of the success of the first book, I have been commissioned to write a second book about paddleboarding in the Lake District. I'm basically going to spend the spring and summer days on weekends (around my job) doing, which is really exciting. I love to paddle with others and create a meaningful story, as well as lots of logistical details, safety points and history.

If you're looking for the perfect spot to try you can check out the British Canoeing website or Canal and River Trust, SUP magazine, my book, podcasts, Facebook groups, Sarah SUP Junkie Thornely on Instagram, sea kayaking and kayaking forums can be really helpful!
Tell us more about your incredible litter picking journey?
For a long time I've been picking up litter and then when I decided to do the coast to coast I wanted to incorporate picking up litter and raise awareness and money for 2minute Beach Clean charity, for which I'm now an ambassador. I also fundraised for The Wave Project which is a surf therapy charity. I've always picked up litter when I've been paddle boarding so it's a natural thing to do. I think there's a lot of paddle boarders that do it too, we see it, we pick it up. Most paddleboarders do actually have a real connection with the environment and want to pick up litter or test for the water quality because it really impacts upon our paddle boarding. I think there's something incredibly special about picking up litter, you can make such a difference. It's a real honour and a privilege to be able to do that. Often I will SUP to a beach that's maybe a little bit tricky to get to by foot and you know I've made a bit of a difference that day. I am grateful to paddleboarding that I can do that.